Trip Advisor review - "Another fantastic night !"
Rutherford Briant Recruitment - Come Dine With Me experience
Testimonial from Hunters Contracts:
We recently took some clients to Ann's School of Cookery at their St Katherine Dock location which is fabulous.

Having personally been a few times to the Danbury location of the Cookery school, we decided to invite some clients to a Hells Kitchen style cookery evening. The evening was an outstanding success and all the clients loved it as it was so different to 'usual corporate type events' and a great team building and fun thing to do. Perfect for clients who are interested in cooking but even if they are not - it is informative and a great laugh and Ann and her team are relaxed and help achieve this - it is as competitive as you want to make it. The best thing is you get to drink as you cook and eat the delicious food too. ABSOLUTELY RECOMMEND IT.
Testimonial from UBS:
We went here with work for a Christmas Team night out and what a great night out it was. Ann and all her team deserve a big thanks for putting up with us rowdy bunch. We all had a great time and where made to feel very welcome here. The food was fantastic 1st class and we all enjoyed taking it in turns to be chef for the night. I would love to go again one day and can highly recommend to others.
"My last recommendation, only last because I am working my way through a pile, no other reason is a small, delightful book called Ann's Smart Book of Recipes and Tips by Ann Louise Hood."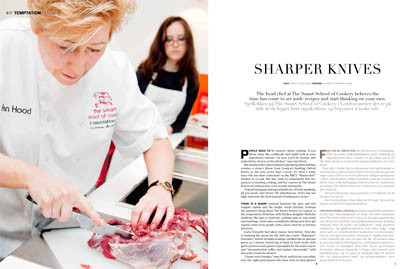 Thank you for a brilliant cake class today! I think the lemon drizzle cake was amazing (once Kim and I remembered to put the lemon in!!)

---
 Hi Ann, Thank you so much for the experience at your class. / workshop which was totally fantastic (exemplary).. Personally I had so much fun, "edutainment" healthy banter, great tips and tuition.. The "lesson" flowed, it was hands on interactive, all of us felt part of the team from step one!!
You have a passion which is evident in both your persona and coaching skills...
Can only thank you for your shared expertise, fantastic time and I am currently sharing our praises to you from all the 4:00 PM Bray Class..
Thank you so much Ann... :-) :-)
After 9 Years Without a Kitchen - You certainly were the catalyst I needed to both kick start my culinary infancy and grow onward .... :-) :-) (Apologies I Smile A Lot) ...
Diane and I thoroughly enjoyed the entire evening and we certainly wish to attend future events..
---
Thank you for a most enjoyable morning last Wednesday. It was also informative and I would not fault any aspect of the event.

You have the ideal presentation style and deserve continued success.
Regards
Gordon
---
Dear Ann
I just wanted to say how much my mum and I enjoyed our cookery experience with you last Saturday morning.  It was great to meet you and hear your inspirational journey. 
My dad treated us to the course and I will be repaying him by cooking the entire menu for him and mum (hoping not to burn the crème brulee!)
Thank you again, we have been telling everyone about The Smart School of Cookery and I am sure that we will be coming to future courses at the new premises.
Best wishes
---
Hi Ann
Thank's for today's class. Best Saturday that I have had for ages. Really enjoyed myself, good food, good company, good instructions. You have to be pleased with yourself, you relaxed everybody to such an extent that everybody seemed at home preparing food in front of an audience.
Loved the experience.
Best regards
---
Dear Ann, 
I just wanted to thank you so much for Friday evening.
My family were blown away by your fantastic evening. We all had such an excellent time. You are VERY good at what you do Ann, such a charming host, excellent teacher and fabulous chef. The food was so delicious.
Many congratulations on your thriving business, we can all see how hard you work, yet you are so gracious and make each diner feel special, relaxed and it really is so much fun. That takes skill.
Thanks again, very much, and kind regards.