Ann's Smart Oils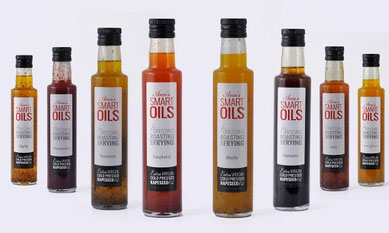 Luxury 100% cold pressed rapeseed oils in a range of flavours. Ann is a cooking expert who's worked with BBC chefs, and she believes that rapeseed oil is ideal for cooking because of its high smoking point, and perfect for dressings and sauces because of its naturally nutty flavour.

All smart oils have just the right amount of seasoning and garlic - so no need to season. Simply shake and use!
Oil flavours:
- Balsamic
- Blackcurrant
- Chilli
- Garlic
- Lemon & Mustard
- Mojito
- Raspberry
- Rosemary 
All perfectly blended with rapeseed oil making them amazing to fry, roast or dress in.
Also Available... Ann's Smart Salts & Sugars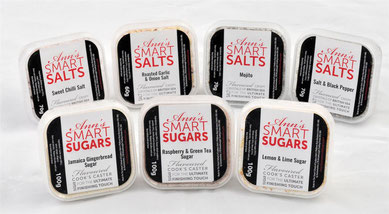 Salts available in:
- Mojito
- Roasted Garlic & Onion
- Salt & Black Pepper
- Sweet Chilli
Sugars available in:
- Lemon & Lime
- Jamaica Gingerbread
- Raspberry & Green Tea