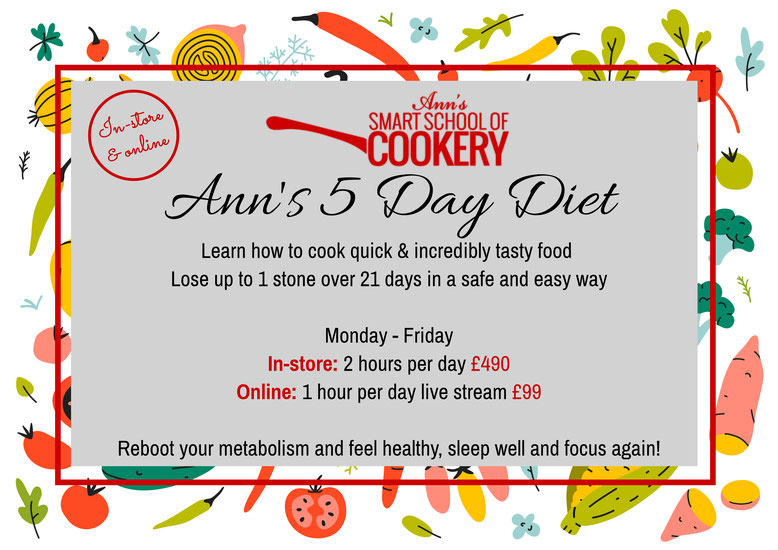 Copyright 2013 by Ann Hood
If you want to lose weight and/or simply eat healthily without any fuss, then this is the diet for you and your family as you won't even feel you are dieting. It's real, it's easy and it's seriously tasty.
I have been offering these courses for several years now with fantastic results, drop a dress size in under 4 weeks. I did it and so have many of my clients and they have stayed on the lifestyle diet because it's so tasty and easy to use.
I teach you the chef tips that make it quick and easy.
What's included:- menu planner with options for breakfast, lunch and dinner for you to prepare and cook in the minimum amount of time and simply adjusted for weight loss or just good food the family will thoroughly enjoy, they won't even know if you are adjusting yours to lose weight.
Short recipes for 20 minute meals including curries, no shop brought pastes as you can make your own in seconds, lunches for work and those of you who work on the road all day and a great one hour start to finish roast.
Key ingredients to keep stocked and tips on quick prep for the week, totally inexpensive too. So why is this diet so different? ll its quite easy really, you need to eat foods that actually keep your metabolism and gut moving, if they don't then there is no diet that will work or last. You need to like the food and not have to do any special shopping;
What you cook in is so important and learning what are good and bad fats, a quick and easy guide will seem so logical.
A simple adjustment of what goes on the plate, will give you control over:-
The areas you want to focus on without cooking different meals for everyone

Weight loss

Vitamin and mineral intake

Energy levels

Concentration levels

Skin texture

Sleeping
Options for people who exercise regularly, sometimes or not at all.
Most importantly you need to enjoy the diet rather than feeling tied in. This is a lifestyle diet that you will want to continue with.
We all need a treat at times too, so they are all included to keep it real.
****************
Always consult your GP prior to diet change.
Eating well helps cholesterol, diabetes, skin problems , sleeping and general well being.
---