Santa Croce Camerina, Sicily
The Province of Ragusa has recently been included by UNESCO in the World Heritage List for its precious Baroque style buildings. It is literally a casket full of architectural, archaeological and naturalistic treasures.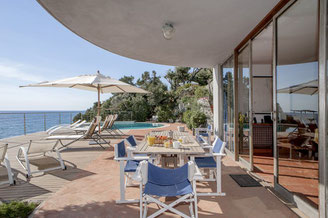 Villa Santa Croce is every one's wish who wants to spent a journey in Sicily. The luxurious house, rebuilt by the ancient Hunting House of Marchesi di Ganzeria, an old Sicilian family, is located in the middle of an unspoilt area of 20 hectares, formerly the hunting reserve of the family. The quiet of the place, the discreet elegance of the villa, with every comfort, the vicinity to the town and to the beach, but also a perfect position to visit south-eastern Sicily, make the villa an ideal place for a journey in Sicily. The villa offers private garden and veranda, private pool and tennis court. All the comforts, the relax of the villa and the pool, will be at exclusive use of the guests. The garden is all around the Villa with natural herbs and trees, like lemons, bitter orange, mulberry tree, fig trees, almonds and a monumental agave. The pool in discreet position is surrounded by a characteristic prickly pear hedge and offers a large solarium with pool beds and chairs.
Your Cookery Trip to Sicily
£899 per person excluding flights & alcohol.
Includes: transfers, luxury villa, trips to markets and wine estate, cookery lessons & 3 meals per day.
Guests will be cooking two of the meals each day, which will all be hands-on as a group, creating a 2 to 3 course lunch & dinner everyday with chef.
There will be trips to market each day - each group will be given a budget to buy ingredients of choice.
Alcohol is not included.
There will also be a trip to a vineyard, and we do hope to have a trip to the olive grove (with tasting) depending on the harvest time.
Single room supplement £290 
About Sicily
Sicily is one of the best-kept holiday secrets. It is not as well trodden as some other European countries and in my mind that is a blessing. There are still many undiscovered areas that make you feel like you've stepped back in time. It has some of the world's best-preserved ancient Greek and Roman ruins, regions full of Baroque towns, spectacular scenery ranging from the world's most active volcano to rugged mountains to expansive fields of grain, olive groves and vineyards to sandy coasts and crystal-clear water. Thanks to Sicily's Mediterranean climate, it enjoys mild to warm, wet winters and warm to hot, dry summers.
For the past decade, Sicily's wines and olive oils have been awarded some of the most prestigious prizes and the island's fish and produce are among the freshest. Add to that a warm, welcoming population, as well as a warm, sunny climate and well, you have the perfect holiday destination. As Goethe said in A Journey to Italy: "Without seeing Sicily it is impossible to understand Italy - Sicily is the key to everything".